What a big weekend of activities ahead for the Queen City!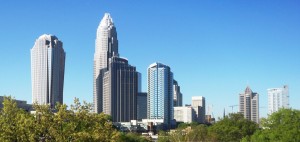 And that means in SouthPark too! Have you gotten your schedule together for the weekend yet? For a copmlete list of DNC-related events, check out the CHARLOTTE IN 2012 website.
From speeches to parties to lectures and discussions, there will be a lot going on during the week of the convention. Visitors and locals alike will have a chance to participate in the events of the DNC and taste the flavor of the City!
If history is your thing, you may want to join in on Tuesday, Wednesday and Thursday mornings from 10-11:30 a.m. of Convention Week for educational tours along the Carolina Thread Trail. Visitors will learn about the Greenway and Thread Trail system from various speakers on urban planning, historical, environmental, and health backgrounds. You won't want to miss it!
All events are open to the public, and registering is advised. You can do so by clicking on this link: http://charlottein2012.com/events/ and choosing the event you would like to attend.All of theseevents are a part of Charlotte Mayor Anthony Foxxs Energy, Technology, and Sustainability convention Legacy program.
See you there!