Upscale Shopping @ Charlotte's SouthPark Mall!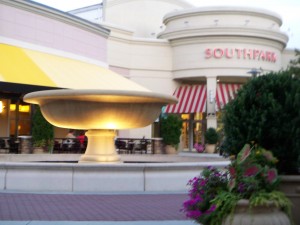 I hope you have had an opportunity to participate in the High End Shopping at SouthPark's Girls Night Out (GNO). On September 12th,Belk's at SouthPark hosted a cocktail hour or two of Food, Beverage & Latest High End Fashion Fun. Anne Klein's reps, just in from NY, provided a Fashion Show promoting their Leo Legacy Polo. The High End SouthPark theme… Color Blocking. The Color Blocking was consistent with their Rich Brown's mixed with Sunset Reds and Bright Blues with Dark Purple. ***Look for another SouthPark Event at Belk's September 21st!***
PS- Stay tuned for video footage of the event!!!