Uncork the Fun with SouthPark's Great Grapes Wine & Food Festival!
Dive into the fun at the 11th Annual Great Grapes Wine & Food Fest Celebration!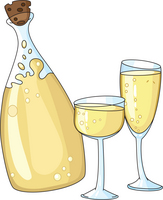 Great Grapes! is Charlottes premier casual wine tasting with hundredsof wines available for your tasting pleasure. You'll also receivea souvenir tasting glass as you enter the festival and stroll from tent to tent and table to table tasting and sampling the rich heritage of North Carolina vines. This will be a truly delicious event that you won't want to miss! Simply sip and savor theafternoon, relax in the beautiful green setting of the Symphony Park at SouthPark Mall. Specialty Pavilions will beset up throughout the event to enjoy a range of local products that pair well with these tasty North Carolina wines. There will be an Olive Oil Pavilion sponsored by New World Olive Oil & Vinegar Co.and a cheese pavilion, where cheese will be served up until 5 p.m. A kid's area will also be available for guests who bring children. All are encouraged to bring lawn chairs & blankets to enjoy live music on the main stage. Bring your friends and family to uncork the fun! Parking will be FREE!
When? October 11th, 11 am-7pm
Where? Symphony Park @ SouthPark Mall.
Come to sample rich flavors and simple pleasures in the relaxed setting that isSymphony Park!
Admission Options:
*Advance ticket purchasers will receive priority entry. Onsite ticket sales are CASH ONLY. Last Call is at 6:45.
CLICK HERE TO PURCHASE TICKETS!
VIP Admission & Tasting Glass:
$39 IN ADVANCE / $50 ONSITE
AdvanceIncludes a souvenir wine glass. Access to the VIP Pavilion and tastes. Unlimited wine samples, all performances.
Adult Admission & Tasting Glass:
$26 IN ADVANCE / $32 ONSITE
Includes a souvenir wine glass, unlimited wine samples, all performances.
Designated Driver Ticket:$20 advance online & on-site and includes admission into the event ONLY.
Kids – 12 and under are FREE!
Read more:http://www.uncorkthefun.com/charlotte-north-carolina/site-info