Spring is Coming & SouthPark Has Lots To Offer!
Spending Time inSouthPark? Check out some of my favorite places & Spring-y Things!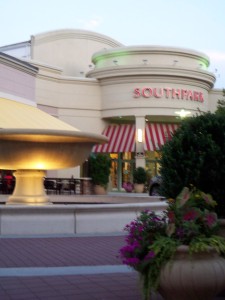 I love to shop and this time of year is one of my favorite to do so since all of the cute Spring (bright & happy colors galore) fashions and designs are coming out. It's such a thrill to see each year's spring collections. And where do I get some of my best spring shopping done? You guessed it.SouthPark Mall. With So many wonderfuldepartment stores and customboutiques, its hard not to find fashions for every season, but especially Spring. The boutiques have designer quality amazing accessories that would make every fashionistahappy!
The daily grind. Now, when it comes to something a little less exciting and a little more mundane, like grocery shopping,
Whole Foods Market
is for sure my
go-to
place for choice-item groceries like free-range (happy animals) meat selections, bulk foods, organic dairy, and creulty-free bath products &cosmetics. Although certain items may be a little pricey, the quality is excellent and you wont be disappointed. Plus items like these are hard to come by and you know the old saying, you get what you pay for Well in this case, its certainly true. My favorite thing about going to Whole Foods in the early spring is they always have the best selection in seasonal produce. It's so much fun to run to the store for fresh spring produce.
Now back to the fun stuff. WhetherIm taking a client out for lunch or meeting a close friend for dinner, one of my favorite spots (
most definitely
) is
Dean &DeLucaWineRoom
at
Phillips Place
in
SouthPark
. With easy access and great parking, D&D is located just down Fairview Road fromWhole Foods. Featuring gourmet wines from around the world, D&D serves up scrumptious appetizers and entrees to go with that special bottle. If youre in more of a glass mood, then thats an option too! Sample their variety of wines, glass after glass. You're sure to pop that perfect light, crisp & refreshing spring bottle of vino at this place!
Speaking of delicious food, one of SouthParks hidden gems is
Portifinos
Italian Restaurant. As described on their website,
whether your passion is pasta or pizza, seafood or meats, cheeses or vegetables, have it here atPortofinos Ristorante Italiano e Pizzeria.
If you have not eaten here yet, I highly recommend you go tonight, dont wait another minute! If youre not salivating yet, check out their to-die-for
menu
.