Calling all Runners!!! The SouthPark Turkey Trot 8k is back for another year!
And it's something for the entire family!The SouthPark Turkey Trot 8k is the perfect time to get in shap all while spending it with kids, family and friends! What a great way to kick off the Holiday Season!!! Here's the deal: this year there's a new course (see below for a map detailing the changes), all participants get a T-shirt, and anyone who finishes will get a medal… now that's what I'm talking about!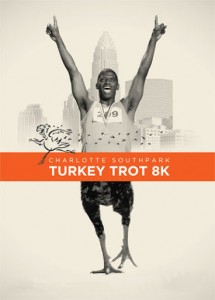 New Course! Click here to view course maps.

T-Shirts to 26.2 yd. Tot Trot participants (youth sizes only)

All Finishers will receive a medallion
For 2012 event site map click HERE. Please review carefully in advance of race day.
Interested in entering? Register here
See you there, and Happy Thanksgiving everyone!!
UPDATE! See the runners in action at SouthPark's Turkey Trot Run!!!
Photo Credit: http://old-nc-runner.blogspot.com/2009_11_01_archive.html